Master Lee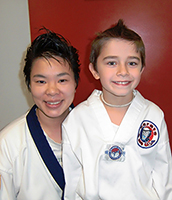 MASTER THERESA LEE is a New York native and comes to us by way of Georgia. In New York she began her training at the age of 5 and a few years later earned her black belt. Living in Georgia she taught various martial arts enrichment programs for the Athens Montessori School and Union Point Elementary school while working at the University of Georgia. Master Lee is a SEAAU Forms Champion and has achieved a 4th Dan in Tang Soo Do and a Kukkiwon 4th Dan in Taekwondo. Her strong family influences have taught her why compassion, devotion, and patience are necessary in not only dealing with students, but with life in general.
Master Crittenden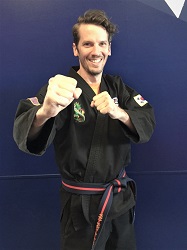 MASTER DARYL CRITTENDEN grew up in Muscle Shoals, Alabama. He started training at the local YMCA in Tang Soo Do in 1988. He fell in love with Tang Soo Do and has been training in it ever since. Master Crittenden received his First Dan in 1992. His original style of WTSDA allowed him to train under Master Strong (Now Grandmaster Strong) for many years which gave him the opportunity to begin teaching at the young age of 12. After a brief stay in NYC and doing some self-reflection and surviving cold winters he decided to move West. He joined the Karate 4 Kids USA/Victory Martial Arts staff in 2007 as a 2nd Dan. He tested for 3rd Dan in 2011. And received his 4th Dan and So Bom level in 2017. He loves teaching and training and the family here at Karate 4 Kids USA and Victory Martial Arts. His background is in the circus and often times on the mat that shows up. As an instructor he's trained cops, beauty queens, and tiny ninjas to kick some tush and to be respectful human beings out in the world. He looks forward to seeing you in the Dojang! Tang Soo!
Master Figueroa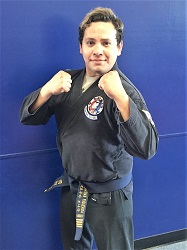 MASTER JONATHAN FIGUEROA'S love for martial arts began at an early age. Possessed by boundless energy and unburdened by common sense, he would spend most of his free time jumping on the backs of much larger classmates to "ride the elephants". Seeing this as not the most appropriate outlet for all that energy, his parents enrolled him into the "Dragon Negro Escuela de Artes Marcial", the Black Dragon School of Martial Arts, located in El Salvador. When he eventually made his way back into the U.S., he found himself enrolled into Karate 4 Kids USA. He studied under the tutelage of many instructors, learning different perspectives about the martial arts. However, the one thing he took from all his teachers was to maintain a strong sense of perseverance. It would manifest itself on his different accomplishments, such as reaching his first black belt (Dan) in 2007, graduating from OTIS College of Art and Design with a Bachelor of Fine Arts in Architecture, Landscape and Interior Design in 2013, cross training in Muay Thai for 5 years, and eventually reaching his Master title, 4th Dan black belt, after many years of hard training and teaching. Master Figueroa continues teaching the same values of hard work and determination to his students, so that they may find their own "elephants".
Kyo Sa Nim Gillespie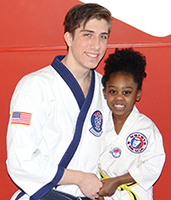 WILL GILLESPIE was born in New York City, and lived there for five years until moving to California. While still living in New York, he walked past a Karate studio at the impressionable age of four and was immediately hooked. Starting here at Karate 4 Kids USA at five years old, he realizes what it takes to better the students and make them great. Kyo Sa Nim Gillespie received his black belt in 2007, and reached Kyo Sa status in 2016.
Mr. Morrow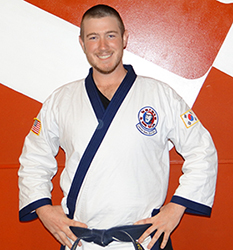 ZACH MORROW has been involved in Martial arts since he was little, and 18 years later he is still looking for the Power Rangers Uniform she promised him. He has been training under Master Vince Donvito for the past 11 years and in 2008 he earned his Dan Certification. After a break to serve in the IDF, Mr. Morrow has returned joining the Studio once again as an Instructor and working on furthering his Martial Arts Career. Mr. Morrow is currently studying for his B.A. in Business at the American Jewish University of Los Angeles. In his free time Mr. Morrow enjoys reading and drawing Comic Books, and is secretly trying to re-invent the Super Soldier Serum to become the next Captain America.
Mr. AJ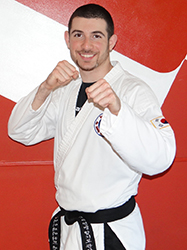 AJWAD EL-JURDI began his martial arts career at the age of four, looking to become a kicking machine like Jean Claude Van Damme. Although his Van Damme dance moves are not up to par, he found a home and family like no other at K4K USA. Currently he is a Project Manager in Home Care Services for the Regional Offices of Kaiser Permanente and a graphic designer for Strength United. He is still dedicated to the kids and the studio, passing on his martial arts expertise to the little ninjas to be.
Mr. Shaw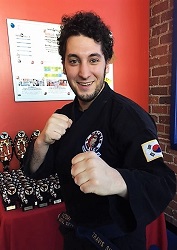 Mr. Shaw, TRAVIS SHAW born and raised in Los Angeles, California, has been practicing martial arts since he was 6 years old. Beginning in an afterschool program much like the ones he teaches now, Mr. Shaw eventually began taking classes under Master Donvito, Master Lee, Master Crittenden and Master Figueroa, and a multitude of other spectacular instructors at Karate 4 Kids USA. With his 2nd Dan, and training for his 3rd, Mr. Shaw is also an actor working toward his B.A. in Theater at UCLA and a stage combat choreographer for the student play companies on the UCLA campus. Mr. Shaw is a direct product of the studio and a shining example of what can be achieved here at K4K.
Mr. Esteban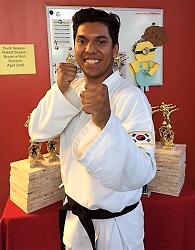 Mr. Esteban, ESTEBAN ALDANA born and raised in Los Angeles has studied martial arts since the age of 13 and has a first-degree black belt in Taekwondo along with 3 years training in boxing. He is currently training to get a black belt in Tang Soo Do, but continues to train for his second degree in Taekwondo as well. He enjoys working with children and helping them progress through their training; prior to working at the Karate 4 Kids USA he volunteered at the YMCA in Hollywood, teaching martial arts to children. He attended Pasadena City College and became an EMT but realized that was not the career for him and decided to follow his passion for cars and is attending LATTC to become an Automotive Technician and specialize in engines and forced induction in hopes of owning a shop in the future.