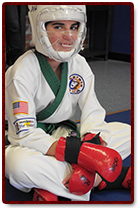 Karate 4 Kids USA is Los Angeles' premiere Children's Karate Program. Our classes are designed with children (age 3.5 and up) in mind: providing a dynamic and active learning environment. These classes focus on developing coordination, self-control, balance,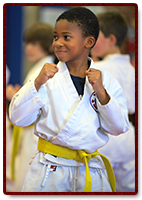 flexibility, strength, stamina and discipline in a safe, supportive and non-competitive atmosphere. This unique program of fitness, fun and self-development will teach your child all the key traits necessary to succeed in life. Advancement in belt levels occurs through effort and attendance, though it is not our main focus. Our objective is to build strong youngsters both physically and mentally, building an "attitude of success" with every child.
Victory Martial Arts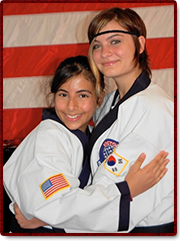 Victory Martial Arts is our adult program which provides instruction for students of all ages and skill levels. Victory is more than just a self-defense program; it will also build self-confidence, self-control and self-esteem. This program incorporates breathing techniques, stretching, and mixed conditioning of kicking, punching and blocking to improve body flexibility, coordination, physical health and mental endurance.
Ninja Nites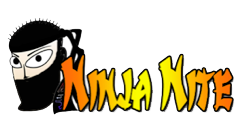 Cheaper than a babysitter and twice the fun, Ninja Nite is a jam-packed and rockin' fun time! Karate, games, supervised activities, pizza and G-Rated movies (what else are we going to show, really?) with our fantastic staff, we promise your kids will be in stitches (that's laughter, not real stitches)!
Camps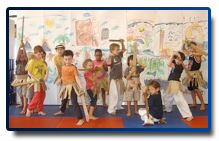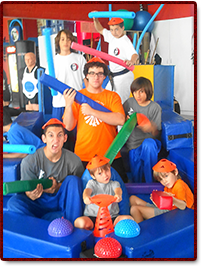 Karate 4 Kids USA offers full day camps during your child's vacation time. Winter/Holiday Camp and Summer Camps are a fun and constructive way for your child to spend their vacation time. Martial arts, games, dodge ball, arts and crafts, paper airplanes, library trips, general mayhem and major chaos.
Birthday Parties
Throwing a birthday party at Karate 4 Kids USA is a piece of cake! Just bring one and we do the rest, including setup, activities, and of course, cleanup! Our facility is dedicated to your family and guests. So sit back and enjoy! Celebrate your child's birthday with captivating games, organized activities, and a board-breaking finale!
After School Programs
Karate 4 Kids USA is Los Angeles' Model After School Karate program with over 15 years experience teaching children. The K4K USA staff of highly-trained and qualified instructors teaches Martial Arts to children in a fun, safe, and non-competitive environment.
Our classes meet once a week, for forty-five minutes to one hour in duration. We bring all of the necessary equipment and can hold class anywhere within your facility including a classroom, gymnasium, or community room.
We are happy to say that our classes are among the most popular in after school enrichment programming. We currently teach our unique blend of goal setting, self-esteem, respect, and discipline to over one thousand children each week. We hold classes for students as old as three and as young as eighty-five.
Here is a partial list of the schools we teach at:
Adat Ari El, Buckley School, Center for Early Education, Carpenter Ave, Country School, Crestview Elementary, Echo Horizon School, Flintridge Montessori, Hesby Oaks, Heschel, Kids Klub, Laurel Hall, Montessori Shir-Hashirim, Oasis, Paramount, Palmcrest Elementary, Sherman Oaks Elemtary, St. Marks School, Temple B'Nai Hayim, Temple Sinai, The Oaks, Universal, Valley Beth Shalom, Village Christian, St. Paul's Lutheran, The Seed Montessori, Sports Club LA
Tang Soo Do
Tang Soo Do means "way of the open hand" or "way of the Chinese hand." Tang Soo Do incorporates a balance of hand and foot techniques, self defense and traditional forms. Rooted in a rich history encompassing techniques from ancient Korea, Japan and China, Tang Soo Do was officially established by Grand Master Hwang Kee in 1945.
FREE WIRELESS INTERNET ACCESS!
Eight Key Concepts:
Yong Gi: Courage
In Neh: Endurance
Chung Shin Tong Il: Concentration
Chung Jik: Honesty
Kyum Son: Humility
Him Cho Chung: Control of Power
Shin Chook: Tension and Relaxation
Wan Gup: Speed Control
Ten Articles of Faith:
Be loyal to one's country.
Be obedient to ones parents.
Be loving to one's husband and wife.
Be cooperative to your brothers.
Be respectful to elders.
Be faithful to your teacher.
Be faithful to friends.
Kill only in justice and with honor.
Never retreat in battle.
Always finish what you start.